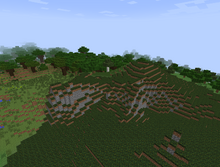 Dead biome - this biome consists of the dead land, dead biome lives whip and denying.It can be found in the overworld.Biome is a very dangerous and is not advised to start.
The first block of this biome is a block Dead.This is followed by 3 cobblestone block.
Mobs
Scouged Man
Abomination (WIP)
Nerubian (WIP)
Rat
As well as the usual aggressive mobs.
Structure